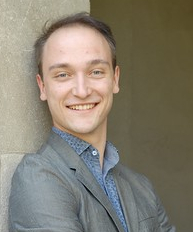 Eric Hayden Campbell
PhD Student, Cornell University
Department of Computer Science
email: ehc86 [at] institution [dot] edu
office: Gates 407
About Me
I am a first-year PhD student at Cornell interested in solving theoretical problems of industrial significance -- specifically in the field of Programming Languages. My research interests include domain-specific language design, type systems, formal semantics, algebra, graph theory, and formal verification. I also enjoy linguistics, making espresso, and ballroom dance [1] [2].
I'm currently working with Nate Foster on making network switches more programmable. Specifically, we're trying to extend SDN programming languages, like P4, with a programmable packet scheduler.
My undergraduate research at Pomona College focused on Finite-Trace Logics and Kleene Algebras Modulo Theories with Michael Greenberg. My thesis developed novel sound and complete axioms for Linear Temporal Logic on finite traces, as well as a cannonical tableau-based decision procedure.
News
November 7, 2017
Accepted to PLMW @ POPL 2018!
August 22, 2017
Successful first day of my PhD at Cornell University!
May 23, 2017
Cornell PLDG talk (slides) about LTLf and Temporal Net

kat

May 14, 2017
Graduated from Pomona College!
April 15, 2017
Accepted offer of admission to Cornell University.
April 12, 2017
Submitted Thesis Manuscript!
April 7, 2017
Thesis Presentations to the Math and CS departments at Pomona
Publications
| | | |
| --- | --- | --- |
| Completeness for Logics on Finite Traces. Eric Campbell, Michael Greenberg. FoSSaCS. October 2017. [IN REVIEW] | PDF | |
| Kleene Algebra Modulo Theories. Ryan Beckett, Eric Campbell, and Michael Greenberg. PLDI. November 2017. [IN PROGRESS] | PDF | |
| Infiniteness and Linear Temporal Logic. Eric Campbell, advised by Michael Greenberg. Pomona College. May 2017. [Undergraduate Thesis] | PDF | slides |
| Constructing Integer Matrices with Integer Eigenvalues. Christopher Towse and Eric Campbell. The Mathematical Scientist, UK. June 2016. | PDF | slides |